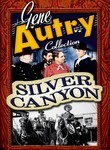 During the Civil War,
Gene Autry
and Couger Claggett (
Pat Buttram
) are scouts for the U.S. Army, assigned to capture rogue bandit Wade McQuarrie (
Jim Davis
), who's holding up Federal supply lines. They follow the gangsters to a far-off Army outpost, where they're captured by McQuarrie sympathizers. The two escape, and with the help of one sympathizer who atones for his wrongdoings and switches sides, they attempt to stop McQuarrie's raids.