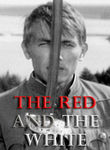 Starring Andreas Kozak,
Krystyna Mikolajewska
,
Jacint Juhasz
and
Tibor Molnar
, this 1967 film was banned in the U.S.S.R. for many years. Set in the hills along the Volga River during Russia's 1918 civil war, The Red and the White is told from the viewpoint of Hungarian troops fighting on the side of the Communist Red Army. The film's theme centers on the violence, absurdity and loss of morality in a war-ravaged land.