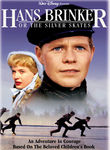 Hans Brinker, or the Silver Skates
Cast:

Director:
First televised in 1962 on "Walt Disney's Wonderful World of Color," this inspiring tale set in 1860s Holland follows an underdog as he attempts to care for his financially burdened family. Young Hans Brinker (
Rony Zeaner
) sets off to Amsterdam to get a job after his father (
Erik Strandmark
) suffers a crippling accident. Hans decides to enter the local ice skating race to win the prize money, but he faces an intimidating rival (
Lennart Klefbom
).