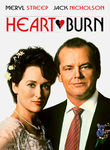 Heartburn
Cast:

Meryl Streep, Jack Nicholson, Jeff Daniels, Maureen Stapleton, Stockard Channing, Richard Masur, Catherine O'Hara, Steven Hill, Milos Forman, Mercedes Ruehl, Christian Clemenson, Mamie Gummer, Karen Akers, Anna Maria Horsford, Ron McLarty, Kenneth Welsh, John Rothman, Kevin Spacey, Natasha Lyonne, Tony Shalhoub

Director:
New York writer Rachel Samstat (
Meryl Streep
) falls in love with political columnist Mark Forman (
Jack Nicholson
), and the two marry despite her reservations. The wedded bliss comes to an end when, among other things, Mark's infidelity becomes a problem they cannot overcome. With no other recourse, the marriage comes to a screeching halt, culminating in a nasty divorce. Loosely based on the real-life woes of screenwriter Nora Ephron.