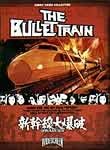 The Bullet Train
Cast:

Director:
The idea for the blockbuster American film Speed didn't come out of thin air, as evidenced by this Japanese predecessor. A crazed man (
Ken Takakura
) has deposited an explosive device on a train and issues a warning that he'll set it off if he doesn't get what he wants. As authorities try to track down the elusive mastermind, the train conductor, Aoki (
Sonny Chiba
), must instill a sense of security in his passengers until he can find the bomb.