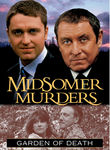 Midsomer Murders: Garden of Death
Cast:

John Nettles, Daniel Casey, Jane Wymark, Laura Howard, Belinda Lang, Sarah Alexander, Frederick Treves, Kate Duchene, Valerie Minifie, Dean Batchelor, Anthony Bate, Raymond Bowers, Anna Calder-Marshall, Tom Chadbon, Simon Chandler, Elaine Donnelly, Neville Phillips, Victoria Hamilton, Shirley King, Michael Tucek, Margaret Tyzack, Neil Dudgeon

Director:
The Inkpen-Thomas family has upset the village of Midsomer Deverell with its proposal to turn their ancestral abode, which includes the village's Memorial Garden, into a tea room. The Bennett family is particularly irked by this plan, as they launched the now-doomed garden. When a member of the Inkpen family is discovered dead, it's up to detectives Tom Barnaby (John Nettles) and Gavin Troy (Daniel Casey) to find out the truth.