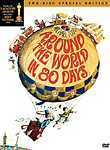 Around the World in 80 Days: Special Edition: Disc 2
Cast:

David Niven, Cantinflas, Finlay Currie, Robert Morley, Ronald Squire, Basil Sydney, Noel Coward, John Gielgud, Trevor Howard, Harcourt Williams, Martine Carol, Fernandel, Charles Boyer, Evelyn Keyes, Jose Greco, Gilbert Roland, Cesar Romero, Alan Mowbray, Robert Newton, Cedric Hardwicke, Melville Cooper, Reginald Denny, Ronald Colman, Robert Cabal, Shirley MacLaine, Charles Coburn, Peter Lorre, George Raft, Red Skelton, Marlene Dietrich, John Carradine, Frank Sinatra, Buster Keaton, Joe E. Brown, Andy Devine, Victor McLaglen, Jack Oakie, Glynis Johns, John Mills, Hermione Gingold, Edward R. Murrow

Director:
This Oscar-nominated hit adaptation of Jules Verne's novel recounts the adventures of Englishman Phileas Fogg (David Niven), who takes on a seemingly impossible wager: traveling around the world with his butler, Passepartout (Cantinflas), in 80 days. The whirlwind journey takes the pair on adventures in India, Hong Kong and the United States. The film's star-studded cast includes Charles Boyer, Marlene Dietrich, Buster Keaton and many others.