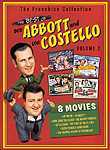 The Best of Abbott and Costello: Vol. 2
Cast:

Bud Abbott, Lou Costello, Ginny Simms, Patric Knowles, Elyse Knox, Sheldon Leonard, Marion Hutton, Kirby Grant, Margaret Irving, Ann Gillis, Arthur Treacher, Thomas Gomez, Peggy Ryan, Martha O'Driscoll, June Vincent, Lon Chaney Jr., Donald Cook, Alan Curtis, Rita Johnson, Henry Travers, Lois Collier, Brenda Joyce, Jacqueline deWit, George Cleveland, Elena Verdugo, Mary Gordon, Marjorie Reynolds, Binnie Barnes, John Shelton, Gale Sondergaard, Lynn Baggett, Tom Brown, Joan Shawlee, Nat Pendleton, Beverly Simmons, Don Porter, Donald MacBride, Marjorie Main, Audrey Wilder, Gordon Jones, Peter M. Thompson, Bill Clauson

Director:
Abbott and Costello are still making generations of fans worldwide laugh out loud with their hilarious comedy. This DVD features eight classic Abbott and Costello vignettes never before released on DVD. The collection includes some of their best work, including the complete version of their most famous routine, "Who's on First?"