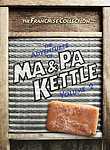 The Adventures of Ma and Pa Kettle: Vol. 2
Cast:

Marjorie Main, Percy Kilbride, Lori Nelson, James Best, Esther Dale, Russell Simpson, Ray Collins, Bodil Miller, Sig Ruman, Barbara Brown, Ivan Triesault, Alan Mowbray, Alice Kelley, Stan Ross, Brett Halsey, Ross Elliott, Mary Wickes, Byron Palmer, Loring Smith, Lowell Gilmore, Mabel Albertson, Fay Roope

Director:
Percy Kilbride and Marjorie Main are the titular Kettles in this collection of four feature films based on the folksy, homespun series that was popular in the late 1930s and early '40s. Follow the humorous adventures of this eccentric hillbilly couple living in a rundown shack with 14 of their 15 children. Films include Ma and Pa Kettle at the Fair, Ma and Pa Kettle on Vacation, Ma and Pa Kettle at Home and Ma and Pa Kettle at Waikiki.