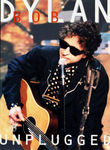 Bob Dylan: MTV Unplugged
Cast:

Director:
American rock legend
Bob Dylan
-- he of the unmistakable gravelly voice -- is at his best in this historic 1995 performance in an intimate, informal setting that highlights the emotion in his music and brilliant lyrics. Featured are renditions of classic songs such as "All Along the Watchtower," "Like a Rolling Stone" and "Desolation Row." Also includes the previously unreleased song "John Brown" and four other bonus tracks.