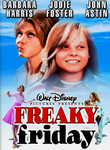 Ellen Andrews (
Barbara Harris
) and her teenage daughter, Annabel (
Jodie Foster
), can barely stand each other. Ellen thinks her daughter is an incorrigible rebel, and Annabel thinks her mother is wound tighter than a spool of thread. But one fateful and freaky Friday the 13th, they discover what it's like to be in each other's shoes when their souls are switched.
John Astin
co-stars as Annabel's dad and
Marc McClure
plays her crush, Boris.