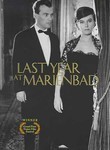 Last Year at Marienbad
Cast:

Director:
At a lavish European hotel, a handsome stranger tries to convince a lovely young woman that they had a passionate affair a year ago. When she claims not to remember him, he keeps trying to convince her, weaving a story that mixes memory and fantasy. Or is it all fantasy? French new wave director
Alain Resnais
helms this complex, controversial film that earned an Oscar nomination for Best Screenplay.