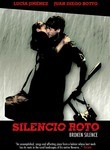 Silencio Roto
Cast:

Director:
As Lucia (
Lucia Jimenez
) turns up in a small town in 1944 to work at a bar owned by her aunt Teresa (
Mercedes Sampietro
), the town is split between Republican loyalists and supporters of newly formed fascism under Franco. Lucia befriends Lola (
Maria Botto
), whose brother Manuel (
Juan Diego Botto
) is linked to the Maquis. Just as Lucia falls in love with Manuel, the Maquis reemerge and free jailed Republicans, causing unrest among the fascists.