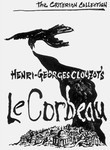 Le Corbeau
Cast:

Pierre Fresnay, Ginette Leclerc, Micheline Francey, Helena Manson, Jeanne Fusier-Gir, Sylvie, Liliane Maigne, Pierre Larquey, Noel Roquevert, Bernard Lancret, Antoine Balpêtré, Jean Brochard, Pierre Bertin, Louis Seigner, Roger Blin, Robert Clermont, Palau, Marcel Delaitre

Director:
The shadowy writer known only as "Le Corbeau" drives a French provincial town -- via cryptic and damning letters -- into exposing the suspicion and hard feelings hidden beneath the community's surface. Made during the Nazi occupation of France, director
Henri-Georges Clouzot
's film was vilified by the right-wing Vichy regime and other groups. But writers such as Jean Cocteau recognized the powerful subtext to Clouzot's anti-Gestapo tale.