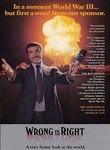 Wrong Is Right
Cast:

Sean Connery, George Grizzard, Robert Conrad, Katharine Ross, John Saxon, Henry Silva, Hardy Kruger, Toby Hughes, G.D. Spradlin, Leslie Nielsen, Paul Lambert, Robert Webber, Jennifer Jason Leigh, Dean Stockwell, Rosalind Cash, Tony March, Marianne Marks, Ron Moody, Keith McConnell, Cherie Michan, Tom McFadden

Director:
Sean Connery
(burlesquing his own super-cool image) is a globetrotting television correspondent who uncovers a terrorist plot to sell a nuclear bomb to a Middle Eastern country. The plan has a ripple effect all the way up to the U.S. president, his prime political opponent and a swaggering general who's too cocky for his -- and his country's -- own good. Directed by
Richard Brooks
, the movie co-stars
Rosalind Cash
and
Robert Conrad
.