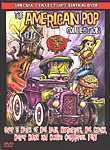 The American Pop Collection: Vol. 1
Cast:

Alberto Lupo, Susanne Loret, Sergio Fantoni, Franca Parisi, Andrea Scotti, Rina Franchetti, Roberto Bertea, Ivo Garrani, Gerald Mohr, Cathy O'Donnell, William Ching, John Qualen, Barry Bernardi, Lori Nelson, Chuck Connors, John Smith, Mark Andrews, Roxanne Arlen, Frank Gorshin, Fred Essler, Eddie Ryder, Carolyn Kearney, Del Erickson, Russell Thorson, Dabbs Greer, Charles Keane

Director:
If you're a 1950s and '60s pop-culture junkie, you'll love this tribute to car-hops, drag races, burger joints, drive-ins … and, of course, cheesy movies! Includes three films -- Atom Age Vampire, Terror in the Haunted House and Hot-Rod Girl -- plus the bonus featurette "Burger Town" (a historic look at Southern California's coffee shops, burger joints and more) and a collection of TV commercials from the era.