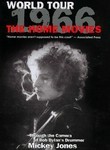 Bob Dylan: World Tour 1966: The Home Movies
Cast:

Director:
Before he became a presence on TV and in the movies, actor
Mickey Jones
used to wield a mighty pair of drumsticks. His renown as a musician eventually led to a gig with the revered rocker himself,
Bob Dylan
, for whom Jones played the drums during Dylan's electrifying 1966 tour. Aside from drumming, Jones also made lots of home movies, collected here to give viewers a never-before-seen glimpse of Dylan and his accompanists, aka The Band.