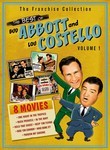 One Night in the Tropics / Buck Privates / In the Navy / Hold That Ghost
Cast:

Bud Abbott, Lou Costello, Allan Jones, Nancy Kelly, Robert Cummings, Mary Boland, William Frawley, Leo Carrillo, Lee Bowman, Alan Curtis, Andrews Sisters, Patty Andrews, Maxene Andrews, Laverne Andrews, Jane Frazee, Nat Pendleton, Shemp Howard, Dick Powell, Claire Dodd, Dick Foran, Billy Lenhart, Kenneth Brown, Richard Carlson, Joan Davis, Mischa Auer, Evelyn Ankers, Marc Lawrence

Director:
Slapstick abounds in this quartet of comedies starring icons Bud Abbott and Lou Costello. One Night in the Tropics, the duo's first film together, finds them helping a young couple menaced by criminals. Their most famous movie, Buck Privates, lands them in hot water on an army base, and In the Navy continues their military adventures as they again co-star with the Andrew Sisters. Hold That Ghost pits the boys against ghosts and gangsters.