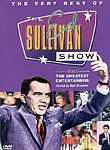 The Very Best of the Ed Sullivan Show: Vol. 2: The Greatest Entertainers
Cast:

Burt Reynolds, Ed Sullivan, Julie Andrews, Harry Belafonte, Jack Benny, Henny Youngman, Gwen Verdon, Clyde Beatty, Elvis Presley, Richard Burton, Nat King Cole, Phyllis Diller, Roy Orbison, Rudolf Nureyev, Johnny Mathis, Margot Fonteyn, Connie Francis, Rich Little, Alan King, Frank Gorshin, Stanley Holloway, Rolling Stones, Beatles, Tom Jones, Hank Williams Jr., Jerry Lewis, Steve Allen, David Crosby, Sammy Davis Jr., Gene Kelly, Creedence Clearwater Revival, Ike Turner, Tina Turner, Byrds, Bob Hope, Peter O'Toole, Richard Pryor, Tom Smothers, Dick Smothers

Director:
Hosted by Burt Reynolds, this collection features many of the greatest moments from Ed Sullivan's long-running variety show, including appearances by top musicians, comedians, dancers and more. Sullivan's high-profile guests include the Beatles, the Rolling Stones, Richard Pryor, the Smothers Brothers, Tom Jones, Nat "King" Cole, Johnny Mathis, Tina Turner, Creedence Clearwater Revival and more.