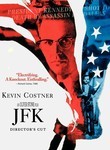 JFK: Special Edition
Cast:

Kevin Costner, Kevin Bacon, Tommy Lee Jones, Laurie Metcalf, Gary Oldman, Beata Pozniak, Michael Rooker, Jay O. Sanders, Sissy Spacek, Brian Doyle-Murray, Gary Grubbs, Wayne Knight, Jo Anderson, Vincent D'Onofrio, Pruitt Taylor Vince, Sally Kirkland, Edward Asner, Jack Lemmon, Joe Pesci, Walter Matthau

Director:
Oliver Stone's fascinating film about the assassination of President John F. Kennedy -- one of America's most enigmatic and mythical political figures -- is even more dramatic thanks to the extra footage included in this special edition. When Kennedy is killed while visiting Dallas, a lone gunman named Lee Harvey Oswald (Gary Oldman) takes the fall. But was he acting alone, or was he part of a larger conspiracy?