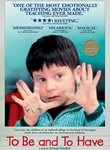 To Be and To Have
Cast:

Director:
The once-acclaimed French school system is under siege, with overcrowding making it impossible for children to receive the education they deserve. But there's one place that's trying to buck the tide. This documentary by
Nicolas Philibert
visits a one-room schoolhouse in rural Saint-Étienne-sur-Usson, where
Georges Lopez
teaches his 13 students, ranging in age between 3 and 10, the old-fashioned way ... with effort, attention and encouragement.