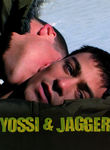 Yossi & Jagger
Cast:

Director:
Two Israeli soldiers try to find solace from the constant grind of war in this moving romantic drama. While preparing for a daring moonlit ambush in the snowy mountains of Lebanon, company commander Yossi (
Ohad Knoller
) and his platoon leader, Jagger (
Yehuda Levi
), fall in love, carefully hiding their relationship from their comrades. But will the tragedy of war ultimately intrude upon the men's clandestine affair?