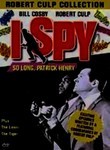 I Spy: Vol. 20: So Long, Patrick Henry
Cast:

Robert Culp, Bill Cosby, Ivan Dixon, Cicely Tyson, Richard Loo, James Hong, Nicholas Colasanto, Eartha Kitt, Mako, Lew Ayres , France Nuyen

Director:
The world's two coolest secret agents, Kelly Robinson (Robert Culp) and Alexander Scott (Bill Cosby) go trekking across the globe under the guise of a playboy tennis pro and his trainer in this popular 1960s espionage TV series. This collection contains three episodes: "So Long, Patrick Henry," co-starring Ivan Dixon and Cicely Tyson; "The Loser," co-starring Eartha Kitt; and "The Tiger," co-starring Lew Ayres and France Nuyen.