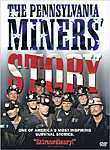 The Pennsylvania Miners' Story
Cast:

Graham Beckel, Dylan Bruno, Marisa Ryan, JD Souther , Michael Bowen, Brad Greenquist, Robert Knepper, William Mapother, John Ratzenberger, Finn Carter, Anjanette Comer, Annie Corley, Lucinda Jenney, Kathleen McNenny, Mariann Mayberry, Peggy Roeder, Tom Bower, Lynne Innerst, Robin Thomas, Gareth Williams

Director:
During the summer of 2002, time stopped for nine Pennsylvania coal miners who were trapped inside a mine for more than three days. Miraculously, all survived -- an uplifting ending to a story most thought would end in tragedy. This made-for-TV movie tells the miners' story from their point of view using actual locations and footage from the real-life Quecreek mine. Stars John Ratzenberger, Michael Bowen and Robert Knepper.