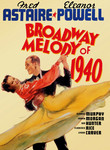 Broadway Melody of 1940
Cast:

Director:
The king and queen of tap dancing --
Fred Astaire
and
Eleanor Powell
-- trade steps in their only screen pairing to a tuneful score by Cole Porter. Astaire stars down-on-his-luck hoofer Johnny, who only has eyes for established Broadway star Clare (Powell). He desperately wants to prove to her that his footwork is as fancy as hers ... and he finally gets his chance in the magnificent "Begin the Beguine" duo dance finale.