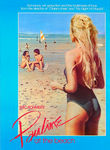 Pauline at the Beach
Cast:

Director:
This seemingly simple French comedy about a seaside romance boasts strong performances and unexpected depth. Continuing his "Comedies et Proverbes" series, director
Eric Rohmer
explores how two cousins, the inexperienced Pauline and the advice-ready Marion, juggle their summertime beaus. While Pauline learns some important lessons in love, Marion is the one who doesn't end up the wiser.