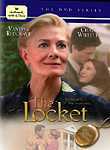 In this Hallmark Hall of Fame presentation, two love stories are connected by the mystery of one simple locket.
Vanessa Redgrave
stars as Esther, a woman who befriends Michael (
Chad Willett
), a young man who's had a tough life caring for his mother. But with his mother gone and his impending marriage in jeopardy, Michael leans on Esther, who offers friendship and patient guidance that could end up saving his way of life.