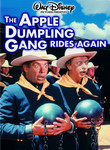 In this sequel to Disney's popular comedy adventure,
Don Knotts
and
Tim Conway
return as the two inept outlaws from the Apple Dumpling Gang. Determined to go straight, they roll into Junction City … and are promptly framed for a bank robbery. From there, every attempt to straighten out their situation results in more bumbling mayhem. Veteran Disney director
Vincent McEveety
helms this slapstick Western co-starring
Harry Morgan
and
Ruth Buzzi
.