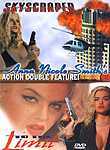 Anna Nicole Smith: Skyscraper / To the Limit
Cast:

Anna Nicole Smith, Joey Travolta, Richard Steinmetz, Branimir Cikatiæ, John Aprea, David Proval, Calvin Levels, Jonathan Fuller, Lee de Broux, Deirdre Imershein, Gary Imhoff, Branscombe Richmond, Michael Nouri, Jack Bannon, Lydie Denier, Charles M. Huber, Deron McBee, Vincent DePalma, Floyd Levine, Gino Dentie, Melissa Martino

Director:
Former Playboy Playmate Anna Nicole Smith's popularity in the 1990s led to a brief film career that consisted mostly of cameos and starring roles in these two films. In Skyscraper, Smith is a helicopter pilot called on to fly a terrorist to the top of a skyscraper, where he takes her hostage. In To the Limit, she teams with Joey Travolta to avenge her father's death and prevent a valuable computer disk from falling into the wrong hands.