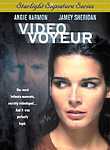 Video Voyeur: The Susan Wilson Story
Cast:

Director:
In this amazing true story, a Louisiana woman named Susan Wilson (
Angie Harmon
) discovers that a trusted neighbor has installed video surveillance equipment in her home to spy on her family. Enraged by this intrusion and its damaging effects on their personal lives, the family takes the neighbor to court, where he's found guilty. Wilson then lobbied for a 1999 law passed in nine other states declaring video voyeurism a felony.