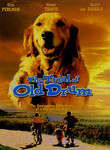 The Trial of Old Drum
Cast:

Director:
In the 1950s, 11-year-old Charlie (
Bobby Edner
) must clear the good name of his golden retriever, Drum, when Charlie's uncle (
John Schuck
) accuses the dog of killing sheep. Drum is swiftly taken away to be executed, but Charlie's dad (
Ron Perlman
) hires attorney George Graham Vest (
Scott Bakula
) to defend the canine before a judge and jury.
Sean McNamara
directs this spirited film, which is based on a true story, and
Randy Travis
co-stars.