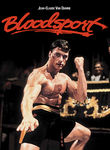 Based on true events,
Jean-Claude Van Damme
makes his starring debut in this kickboxing extravaganza that follows American Frank Dux on his quest to become champion of a secret, dangerous martial arts contest called the Kumite. While searching Hong Kong for the event's arena, Dux must outfox U.S. agents who want him to work for the government rather than fight. But once he finds the venue, Dux faces the lethal, undefeated Chong Li (
Bolo Yeung
).