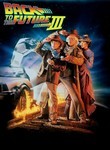 Back to the Future Part III
Cast:

Michael J. Fox, Christopher Lloyd, Mary Steenburgen, Thomas F. Wilson, Lea Thompson, Elisabeth Shue, Matt Clark, Richard Dysart, Pat Buttram, Harry Carey Jr., Dub Taylor, James Tolkan, Marc McClure, Wendie Jo Sperber, Jeffrey Weissman, Christopher Wynne, Sean Sullivan, Mike Watson, Flea, J.J. Cohen

Director:
The final installment of the Back to the Future trilogy finds Marty (Michael J. Fox) digging the trusty DeLorean out of a mineshaft and looking up Doc (Christopher Lloyd) in the Wild West of 1885. But when their time machine breaks down, the travelers are stranded in a land of spurs. More problems arise when Doc falls for pretty schoolteacher Clara Clayton (Mary Steenburgen), and Marty tangles with Buford Tannen (Thomas F. Wilson).