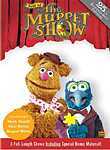 Best of The Muppet Show: Mark Hamill / Paul Simon / Raquel Welch
Cast:

Jim Henson, Frank Oz, Mark Hamill, Paul Simon, Raquel Welch, Jerry Nelson, Richard Hunt, Dave Goelz, Kermit the Frog, Miss Piggy, Fozzie Bear, Gonzo, Muppets

Director:
The most sensational, inspirational show on television is back! These hilarious, uncut episodes are packed with all the skits, music hits, great guest stars and Muppet moments you love, plus some extra laugh-out-loud tunes and sketches. So join Kermit, Miss Piggy, Fozzie, Gonzo and the rest of your Muppet pals for the one, the original, "The Muppet Show." Guests include Mark Hamill, Paul Simon and Raquel Welch.