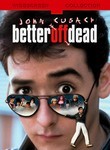 After his girlfriend (
Amanda Wyss
) ditches him for a boorish ski jock (
Aaron Dozier
), Lane Meyer (
John Cusack
) decides that suicide is the only answer. But his increasingly inept attempts to off himself only bring more agony and embarrassment.
Dan Schneider
("Head of the Class") co-stars as Lane's socially awkward neighbor, Ricky, whose mother takes in a foreign exchange student from France (
Diane Franklin
), only to meet with an explosive end.