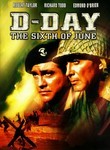 D-Day: The Sixth of June
Cast:

Director:
In this atypical story about D-Day, American captain Brad Parker (
Robert Taylor
) and British colonel John Wynter (
Richard Todd
) prepare for the Normandy invasion aboard the same ship. En route, the two men recall, in flashbacks, their love for the same woman (
Dana Wynter
). Will the D-Day battle determine which one comes home to her? The hellish war scenes and the compelling story will grab you.