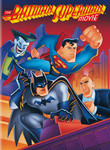 The Batman Superman Movie
Cast:

Director:
In this animated superstory, the Joker (voice of
Mark Hamill
) solicits the help of Lex Luthor (
Clancy Brown
) in a fiendish new scheme, and only the combined superpowers of Batman (
Kevin Conroy
) and Superman (
Tim Daly
) can save Metropolis from disaster. Will the Man of Steel and the Caped Crusader be able to foil the plot of this diabolical duo? Not if the superheroes' alter egos clash as they vie for the attention of Lois (
Dana Delany
)!