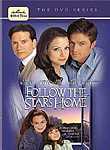 Follow the Stars Home
Cast:

Director:
Produced for television's "Hallmark Hall of Fame" series, this story follows Dianne (
Kimberly Williams
) in her new marriage to young, successful Mark (
Eric Close
). A pregnancy follows, but the baby has severe genetic abnormalities, and Mark, unable to cope, walks out. Determined to create a family, Dianne keeps baby Julia and receives love, guidance and assistance from some unexpected sources.
Campbell Scott
and
Blair Brown
co-star.