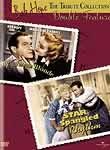 My Favorite Blonde / Star Spangled Rhythm
Cast:

Bob Hope, Madeleine Carroll, Gale Sondergaard, George Zucco, Lionel Royce, Walter Kingsford, Victor Varconi, Edward Gargan, James Burke, Charles Cane, Dooley Wilson, Bing Crosby, Fred MacMurray, Franchot Tone, Ray Milland, Victor Moore, Dorothy Lamour, Paulette Goddard, Vera Zorina, Mary Martin, Dick Powell, Betty Hutton, Eddie Bracken, Veronica Lake, Alan Ladd, Eddie "Rochester" Anderson, William Bendix, Jerry Colonna, Macdonald Carey, Walter Abel, Susan Hayward, Cecil Kellaway, Jimmy Lydon, Lynne Overman, Cecil B. DeMille, Eva Gabor, Dorothy Granger, Sterling Holloway, Preston Sturges

Director:
Bob Hope pops up alongside some of Hollywood's biggest stars in this pair of Paramount comedies. In My Favorite Blonde (1942), a good-natured entertainer (Hope) finds himself caught up in espionage when he falls for a secret agent (Madeleine Carroll) with platinum locks. Then, in Star Spangled Rhythm (1942), a sailors' outing to the Paramount lot brings them face to face with Bing Crosby, Dick Powell, Betty Hutton, Mary Martin, Hope and others.