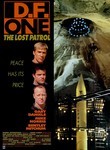 Delta Force One: The Lost Patrol
Cast:

Director:
When terrorists capture a group of United Nations peacekeepers, the U.S. government dispatches the Army's most elite unit -- Delta Force -- to the Middle East to find them. This straight-to-video action-thriller follows Capt. James Wellford (
Gary Daniels
) and his comrades (
Bentley Mitchum
, grandson of Robert, and
Mike Norris
, son of Chuck) on their mission, which evolves from a hostage rescue to an anti-nuclear operation.