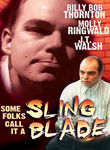 Some Folks Call It a Sling Blade
Cast:

Director:
The short film that inspired the Oscar-winning feature takes a controversial look inside the mind of mentally challenged murderer Karl Childers. Shot in stark black-and-white, the movie stars
Billy Bob Thornton
as Childers and
Molly Ringwald
as the reporter who interviews him on the day of his release from an insane asylum. The film derives its title from the infamous killer's description of the weapon he used to murder his mother.