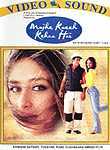 Mujhe Kucch Kehna Hai
Cast:

Director:
Puja, an NRI, has come to India to do research on Indian traditions and culture. Her studies and her career mean everything to her. Karan is a simple boy with boyish good looks who knows how to love but can't bring himself to express his love.
Can the two of them overcome obstacles and fall in love?