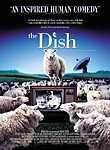 July 1969. Neil Armstrong is about to walk on the moon, and everyone's eyes are riveted to their TV screens. In Parkes, Australia, a radio dish antenna is slated to receive Apollo 11's video feed and send that historic sight out to the world … that is,
if
the Australian staff (including pipe-smoking, absent-minded scientist
Sam Neill
) and their NASA supervisor (the tense, by-the-book
Patrick Warburton
) don't make any mistakes!