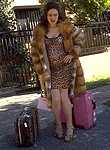 Russian Doll
Cast:

Director:
As a favor to married best friend Ethan (
David Wenham
), soft-boiled Aussie private eye Harvey (
Hugo Weaving
) grudgingly agrees to wed Ethan's mistress -- a spirited Russian named Katia (
Natasha Novak
) whose visa is about to expire -- in this quirky romantic comedy. It seems that Ethan isn't ready to say goodbye to Katia ... or to leave his wife (
Rebecca Frith
). But all bets are off when Harvey finds himself falling in love with Katia.