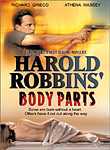 Harold Robbins' Body Parts
Cast:

Director:
After his pal J.J. (
Will Foster Stewart
) frames him for a drug-related murder, U.S. Navy officer Ty Kinnick (
Richard Grieco
) becomes convinced that his wife, Rachel (
Athena Massey
), was in on the scheme. When Ty is released from prison, Rachel tracks him down to warn him that J.J. is still after him -- and to tell him that his best defense is to get to J.J. first. To that end, Ty ventures to the Philippines to find J.J.