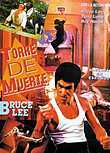 Tower of Death
Cast:

Director:
In his final role (in a film released years after his death),
Bruce Lee
plays Billy Lo, a famed martial arts artist who ends up dead after trying to get revenge on the thieves who stole a friend's coffin. Determined to find out what happened to Billy, his brother Bobby (
Tai Chung Kim
) goes in search of his killers. Bobby's quest takes him to the super-secret headquarters of a powerful drug ring, where some spectacular fights occur.