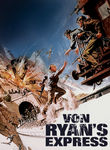 Von Ryan's Express
Cast:

Director:
At the height of World War II, a group of Allied POWs escapes an Italian prison with the help of an idealistic American leader (
Frank Sinatra
), whose style clashes with that of his second in command (
Trevor Howard
). Just a few steps from freedom, the men are captured again -- this time by German troops. A series of twists and turns drives them to commandeer the very train that's transporting them to certain death.