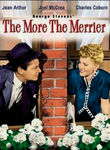 The More the Merrier
Cast:

Director:
During World War II, civil servant Connie Milligan (
Jean Arthur
) decides to turn the housing shortage in Washington, D.C., to her advantage. But when she rents out her four-room apartment to two men -- aging millionaire Benjamin (
Charles Coburn
) and young, handsome sergeant Joe (
Joel McCrea
) -- Connie gets more than she bargained for, including Benjamin taking on the role of matchmaking cupid.
George Stevens
directs.