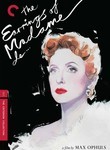 The Earrings of Madame de...
When General Andre de's (
Charles Boyer
) wife, Louisa (
Danielle Darrieux
), decides to secretly sell the diamond earrings he gave her on their wedding day to pay off a troubling debt, she inadvertently sets off a chain of events that results in a whirlwind affair with an Italian baron (
Vittorio De Sica
). Based on the writings of Louise de Vilmorin, this beautifully crafted drama is considered legendary filmmaker
Max Ophuls
's greatest work.