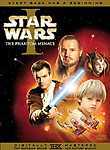 Star Wars: Episode I: The Phantom Menace
Cast:

Liam Neeson, Ewan McGregor, Natalie Portman, Jake Lloyd, Ian McDiarmid, Pernilla August, Oliver Ford Davies, Hugh Quarshie, Ahmed Best, Anthony Daniels, Ray Park, Kenny Baker, Frank Oz, Terence Stamp, Brian Blessed, Andrew Secombe, Lewis Macleod, Warwick Davis, Steven Spiers, Silas Carson, Jerome Blake, Alan Ruscoe, Ralph Brown, Celia Imrie, Benedict Taylor, Samuel L. Jackson, Dominic West, Sofia Coppola, Bronagh Gallagher, Margaret Towner, James Taylor, Ben Burtt, Rick McCallum, Bob Woods, Keira Knightley

Director:
In this Star Wars prequel, Qui-Gon Jinn (Liam Neeson) and a young Obi-Wan Kenobi (Ewan McGregor) must protect the Queen of Naboo (Natalie Portman) from the evil clutches of Darth Sidious and Senator Palpatine. Along the way, they meet a prepubescent Anakin Skywalker, who shows intimations of a great gift. Dazzling special effects from director George Lucas's CGI specialists make this entry in the saga really hum.